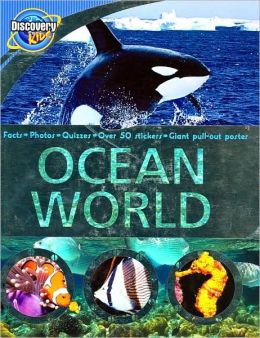 I'm feeling very confident in my quest to teach little man Spanish. Especially since I have a few Spanish lesson plans that I've put together for him. The best part is that our lesson plans are not "scheduled" they come up as part of a play session, story time, or simply talking to little man.
For instance, last week before bedtime we used the book
Ocean World (Discovery Kids)
. I love that this book has a giant pull-out shark poster, stickers, and although geared toward older children (8-9 yrs.old) my 4 yr. old loves this book. The pictures are breathtaking, and the information very educational.
For our Spanish lesson I excitedly tell him to get all of his ocean animals out, and he placed them on the shark poster. Then I asked in Spanish, "¿Quieres colorear?" to what he responds, "¡Siiiii!" I found this great printable
here
that I printed out for him with the names of the ocean animals in Spanish! Cool! Right?
He would color the ocean animal, say the name in English, and then in Spanish. He knew most of them, and he was happy to match the ocean animal with the ones on the coloring page. Before we finished he wanted to cut out the ocean animals, and glue them on a construction paper. He spent a good while cutting, gluing, naming the ocean animals in Spanish, and then he matched some of the stickers from the book.
It went from this to... (see below)
...his work of art!
Like I've said before, I'm not a teacher, I'm just a mommy looking to teach my son Spanish. I have to admit that our "Animales del Océano" Spanish lesson was a success! After his crafty session we sat on the recliner (you could see our reading corner
here
), and I translated the Ocean World book to him in Spanish.
Update:
I am literally jumping for joy on one leg with his progress, nah not really ;) but I am super happy! The other day after I picked him up from preschool he says, "¡Mama, comida!" I about passed out! Was he actually conjugating a sentence out of the blue, without me guiding or initiating it? Wow! So, very calmly I asked him in Spanish, "¿Tienes hambre?" As I rubbed my own tummy. He responds, "Mama, I want brócoli, zanahoria and helado." I tell him to repeat with me, "Mama, tengo hambre. Quiero brócoli, zanahoria y helado." He repeated the sentence, and added, "...I want agua, too." Needless to say, he is coming up with his own Spanglish sentences; and that's all right! His little mind is starting to think in Spanish, and that's an enormous progress!
¡Hasta la próxima!
This post contains and affiliate link, please see my disclosure policy.